Torrevieja has over 20km coast which a lot of are white sandy beaches (playas) and creeks (calas). The Torrevieja beaches are very well accessible and are everywhere in the city indicated by roadsigns.
Sign indicate which services are available on what beaches, services such as showers, play area for the kids, first aid posts, liveguards and special relaxation zones.
Between each beach are some creeks (calas) allowing you to sunbathe and dive in quiet surroundings. Torrevieja has some extraordinary coral reefs.
Protected by the Southern dok of the port, is this one of Torrevieja's most animated and sport-loving beach with a large number of activities. The sea water is there very clean and the colour of sand is almost white. The surroundings are characterised by the salt lakes and lagoons of Torrevieja.
- Length: 300m
- Width: 45m
- Occupancy: high
Situated at the port, this is a wide area with white sand. On this beach strip you find lots of fishingboats and beach bars.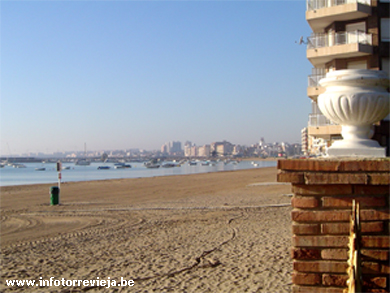 Paseo Maritimo Juan Aparicio (3)
This piece of the coast line exists almost entirely from large rocks. Here have 2 artificial beaches been created. These artificial beaches are enclosed with concrete quays which lets you swim safe without having any waves.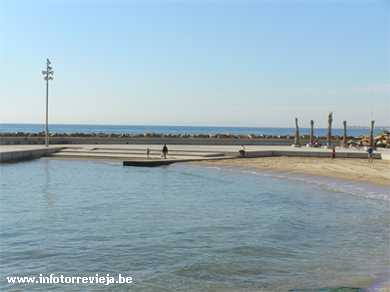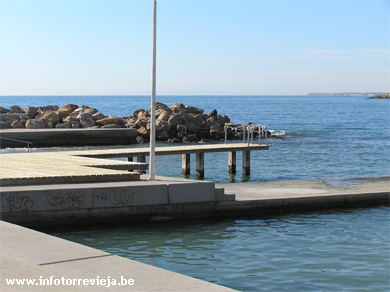 This popular piece of coastline is located inbetween Margallo and the northern dok of the port. The beach has gold coloured sand and is surrounded by palm trees, restaurants and little shops. On playa del cura's paseo there is always something happening!
- Length: 380m
- Width: 25m
- Occupancy: high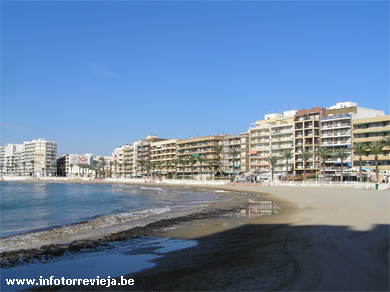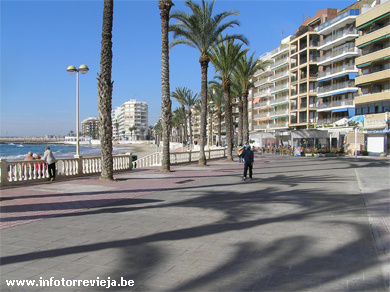 Gold-coloured sand, little waves and clean blue water is the best way to describe this lovely beach. To the north its surrounded by small creeks which reach until Cabo Cervera. The beach has been adapted for people with bad mobility.
The beach has a play garden for kids, some restaurants, a first aid zone and the possibility to rent chairs and parasols.
- Length: 780m
- Width: 30m
- Occupancy: high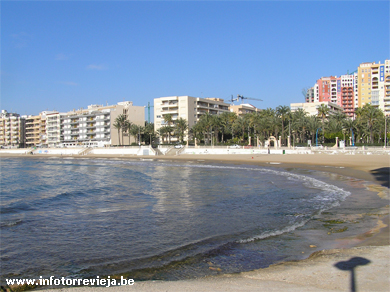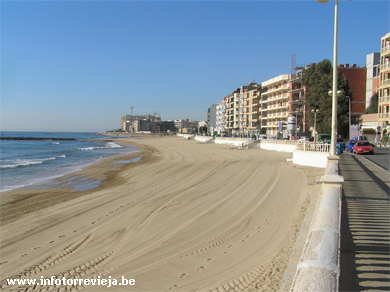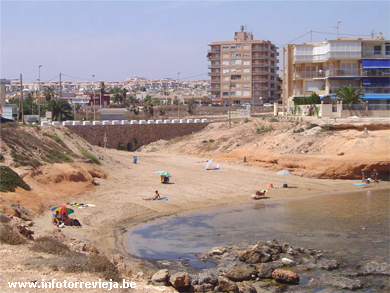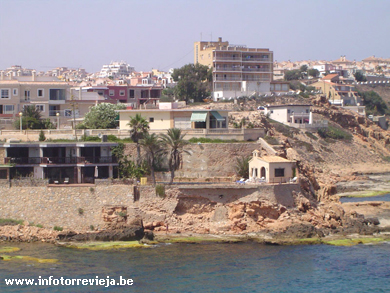 This is the longest and most beautiful beach in Torrevieja. Because of its nice sandy beach and pleasant location (surrounded by the natural park and dunes of La Mata) this is a high quality beach. This beach reaches from Cabo Cervera until the far end of La Mata.